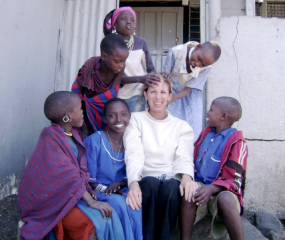 "The seed of passion may be rooted in our childhood dreams, or they may sprout from
a chance adventure offered later in life. I took the bold offer to go on safari and
headed to East Africa over 20 years ago. I quickly learned that less is more and that I had not lived until I had smelled the damp evening air, day's dust and night's fires, heard lion cubs meowing by a trail side puddle, and laughed with men and women with shared and starkly different experiences. The dance along the equatorial rift will continue for my lifetime." Gail LaRocca


Gail has traveled to East Africa nine different times working on various humanitarian projects: as founder of
LifeWaterAfrica.com
which installs biosand water filters in villages, as a supporter of outreach projects at Endulen/Olbalbal Mission among the Maasai, and as project co-manager for a goat shed construction and animal husbandry initiative at Sunrise of Life, home for street children.
---
Gail hails from the Boston area and graduated from Mount Holyoke College (AB Biology) and Boston College (MBA). A former Winchester, MA Rotarian and two time Paul Harris Award recipient, she continues as an honorary Rotarian in the Rotary Club of Moshi, Tanzania. In 2010 Gail was selected as one of 100 Unsung Heroines of Massachusetts for her humanitarian efforts. In addition to lecturing she is an interior/exterior house painter and a fitness instructor.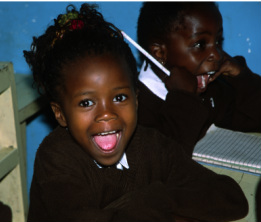 Reviews ~
From elementary school children:
• I really like the lesson on Swahili. I learned alot of new stuff.
• It was cool when two of my friends dressed as African children.
• I got to see the elephants, crocodiles, lions, goats on the mountain, the sweat flies and the children at the school.
• I laughed when the children laughed at the new goats in their new shed!

From middle school/high school students:
• I enjoyed learning about the culture and I found it surprising that many people dress like people in America.
The pictures portrayed Africa as an incredibly breathtaking place that I'd like to visit.
• She (Gail) was so open and honest about her experiences.
• Loved the music and pictures - it was our best program yet!

From teachers:
• My colleagues and i thought the presentation was very informative and could be implemented across the curriculum. The program helps children think about making connections to better understand the larger world.
• Well Gail just covered our whole curriculum unit in an hour and a half!

---